The luminous blue-eyed Eugenia Kuzmina is the sparkling jewel of Hollywood's red carpets. The world-famous model works for brands like Dior, Yves Saint Laurent, Armani, GAP, walks the runways of fashion weeks in Paris, graces the covers of magazines like Glamour, and appears in films like 'Operation Fortune', 'The Hitman', 'Elevator, The', Rock the Kasbach and even had an important role in Bruce Willis's latest film  'Assasin' released in March, Behind Eugenia's fragile frame hides a true Amazon, who, besides modeling in Los Angeles, organizes stand-up comedy nights to break a few stereotypes that affect models. Meanwhile, she happily raises two children and, in her limited free time, works as a professional test pilot for Mercedes. I asked the model herself about how all of this fits into one life, in her Hollywood Hills home. 
You've come a long way in every sense, and now we're having this conversation in one of your beautiful Los Angeles homes. Looking back on your career, what's the most important personality trait that has contributed to your success? 
I have a very positive personality, coming from a background of struggle and Soviet times. I believe my positive outlook on life has helped me reach where I am today. I've always tried to turn negative situations into positive ones. 
How did this exciting career path begin? 
I was thirteen when international companies started appearing in the country towards the end of the Soviet Union. I always felt that the school environment was a bit dull because I was a curious little girl who didn't always like to follow the rules. When I discovered the modeling profession and began making much more money than I had ever imagined, I thought it could be a good opportunity to break free.
"Slava Zaitsev, a renowned Russian fashion designer, started working with me. Slava liked very tall models, and even though I was shorter than his other models, he saw something special in me, something 'European exotic.'"
At first, I worked as a part-time model, sometimes even at the expense of school. I also participated in the Miss Russia competition, but I was too young and didn't make it to the finals. However, a Parisian modeling agency noticed me. My father initially didn't allow me to go to Paris. He worried that I would get lost and be taken advantage of by the fashion industry. To some extent, he was right; the modeling profession is indeed a tough and rocky path." If you have any more text to translate or any other questions, feel free to ask!
How did you manage to hold your ground in Paris and not 'get lost'? You were still quite young… 
At the beginning, I acquired some basic knowledge of the French language at home and in school because I was interested in the language. I was 14 years old when I first visited Paris. At that time, I was still too young to work, so only a few test photos were taken. However, I decided to return to Paris the following summer. While there, I watched a lot of films and TV series, which helped me learn the language and fit in. Additionally, I had friends who helped me navigate the world of modeling in Paris. 
Perhaps it could be said that you entered the golden age of modeling, the dazzling center of the fashion world. At that time, the whole world admired supermodels, and everyone knew the biggest names – Cindy Crawford, Claudia Schiffer, Linda Evangelista, Naomi Campbell… Nowadays, we can hardly mention such influential names. How do you see it from the inside? How has the modeling industry changed over the past decades? How has the explosive rise of social media affected this profession?
When I started modeling, we were paid thousands of dollars for our photos, and understandably, the value of the original photos decreased over time due to archives. For example, if 50 photos are taken of a painting, the original copy of the artwork remains very valuable, but the many photos somewhat devalue the work. I think this is happening in the modeling industry as well because we are always accessible. When you search for our names, millions of photos pop up. Honestly, I think a lot about how to handle this. I advise everyone who shares their photos on social media to try to share as few photos as possible because that's how you can add value, be in demand, and stay relevant. 
You're also involved in several charitable projects. 
Indeed, I collaborate with several organizations fighting against human trafficking, but currently, the rescue of American wild horses is one of the most important projects for me. I also work with Farm Sanctuary. One of my friends, Ashley Evans, made an incredible documentary on the topic called 'Wild Horses – The American Wild Horse.' Currently, there are protests in Congress against the fate of American wild horses because the breed is sadly almost extinct. I personally do everything I can to use my social media platforms for noble causes, but I always check who I stand with first. This is an example of such a cause for me.
I'm glad you mentioned social media, where you are also active. You must surely see its downsides too. As a public figure and a mother of two teenagers, how do you manage these platforms?
I've always believed that social media can be used for good causes, to spread important messages. But I have to admit that I also fell into the trap of social media a bit. Initially – like many others – I craved recognition and likes, and sometimes, I used Instagram almost therapeutically.
"It's true what many warn active users of social media about, that you can become addicted to seeking approval from people without realizing it. I had to acknowledge that I was shouting into the void, thinking that these likes were genuine, that they were about being good friends and caring about who I really am."
But sometimes, people don't even read what I write under the pictures. Okay, I understand. That's why today, I'm much more cautious and try not to post something emotionally driven, for example. I've also passed on my experience in this to my children and cautioned them as well.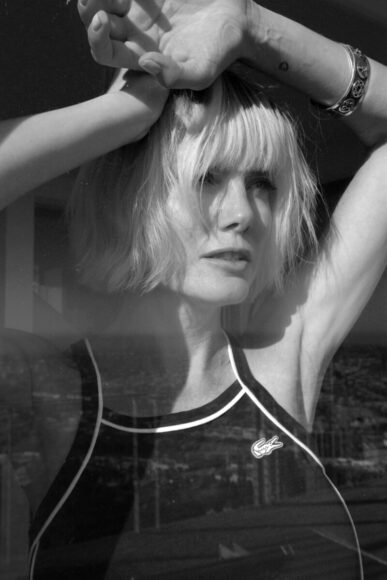 What significant and memorable projects have you been involved in over the past years? 
I've participated in numerous projects, including fashion shows and photoshoots with designers like Tony Ward or Stefan Djokovich, and many others. I had the opportunity to work with a Swiss company that manufactures rare sports cars. These experiences were creative and sometimes extravagant, but for example, when a photographer asked me to climb a balcony, I declined for safety reasons. Overall, I find the modeling profession very exciting, and I'm looking forward to meeting potential new clients in Paris through my new French agent. In recent years, I've also been increasingly involved in film work. 
You also had a role in Bruce Willis's latest film, 'The Hitman,' and not a small one… 
Being an actress is indeed a tough field. It's easy to push ourselves too hard, and often, we neglect our mental health. When new projects come my way, I always have to stop for a moment and think about whether these roles truly bring added value to me or if I would accept them out of fear that if I say no, there won't be another offer… 
What are the passion projects in your life? 
For years, I've been the organizer and performer of a stand-up comedy night in Los Angeles where models take the stage. I see it as a mission to break down stereotypes that people generally have about the modeling world, that it's all about surface glamour. I have many fellow models blessed with brilliant humor, and this is a great opportunity to show the world another side of us. In addition to this, there's something that excites me… I love speed and sports cars. So much so that I became the official test pilot for Mercedes. 
How does all of this fit into your life? 
Sometimes I don't even know where my head is, but then everything always falls into place! (Laughs)
Writer: Virag Vida
Photo: Zita Laura Szasz